A-Z living: an inside look at typographer Alan Kitching's home | Life and style | The Guardian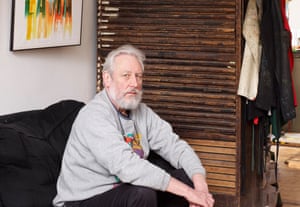 Alan Kitching at home in south London; the building is a former alehouse.
Photograph: Suki Dhanda for the Guardian
... The building is a former alehouse in
Kennington
, south London, buttressed up against a courthouse (local folklore has it that Charlie Chaplin used to come here to fetch jugs of ale for his mother). Storage rooms cascade off the back of the ground floor, where Kitching runs the Typography Workshop, into a cellar crammed with his extensive, 19th-century type collection. Upstairs, a high-ceilinged mezzanine has a reading nook reachable only by the swivel of a library ladder. ...